My name is Ty Goss and this will be my tenth year as principal of Broadmoor Jr. High School. As a lifelong resident of Pekin, it is an honor and privilege to serve the community I call home.
This will be my twenty-fourth year as an educator and my tenth year working for District 108. I completed my undergraduate and graduate degrees at Illinois State University.
My wife (Caryn) and I have two wonderful children, Taylor and Luke. Taylor is a sophomore at Southern Illinois University at Edwardsville and Luke is currently a Junior at Pekin Community High School.
Please feel free to reach out to me with any questions or concerns.
It's a GREAT day to be a BRUIN!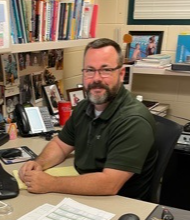 My name is Annie Smith and I am excited to join the Broadmoor team this year as the assistant principal. This will be my 14th year in District #108 - 10 serving as an intermediate teacher and 4 as an assistant principal.
I received my undergraduate in elementary education at Bradley University, and obtained my master's degree from Saint Xavier University.
My husband, Ryan and I have 3 kids: Olivia in 6th grade, Naomi in 2nd grade and Sully who is in preschool.
Having been born and raised in Pekin myself, it brings me a lot of joy to live out my career here in my hometown. I am excited to be returning as a Bruin to my former junior high, and look forward to the adventures ahead!